I am attempting to find some backed-up data and have four drives that were in a cheap "dumb" RAID tower. By "dumb" I mean it doesn't have its own RAID controller, and Windows sets up the RAID configuration.
To begin, I'm not sure that it was ever properly setup as a RAID, all the disks read, but no file structure off the bat. I have made an R-Studio Image of each drive and loaded the images back into R-Studio and am attempting to use the "Create Virtual Block Raid and Autodetect", but it doesn't seem to be working properly. Any time I attempt to drag one of the virtual disks to it, the Virtual Raid block dialog disappears. I tried right-clicking the dialog on the right and adding them, but the problem persists. I tested other physical disks, and they add properly. I think I was finally able to get the virtual disks all into one Virtual Raid Block by right-clicking on each drive and adding them to Virtual RAID Block 1, but no "auto detect" or the tools pictured in the tutorials. If I look at the properties, it only gives me disk size and no other options like RAID type, block size, etc... I've looked at tutorials and videos, and I am only able to follow the steps if I use other physical disks on my computer which I don't need.
EDIT: I get none of this.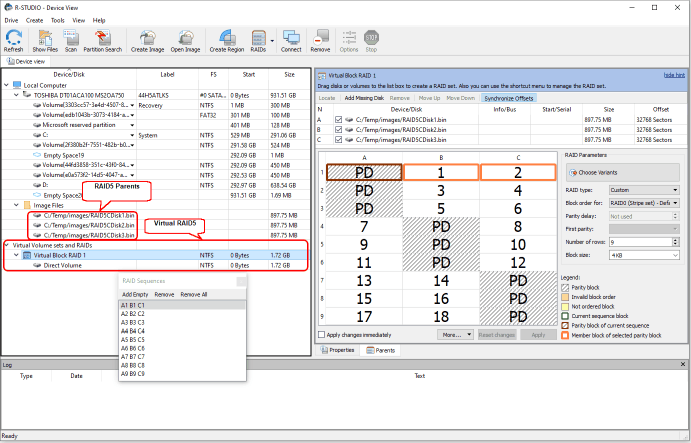 Any thoughts or direction would be greatly appreciated. Also, I am using R-Studio 8.5. It says if I update I have to buy a new license. Thank you.